The reason for sagging skin after weight loss surgery
Although treating obesity is essential to ensure physical and mental health, it is necessary to know that this treatment can also cause some problems and complications. Among these side effects, we can mention sagging skin after weight loss surgery.
read more : RHINOPLASTY IN IRAN
Although most people involve in sagging skin after weight loss surgery, its incidence depends largely on the amount of weight loss and the method of weight loss. People with the following conditions face this complication more than others:
-Losing weight in the short term
-Obese people that lose a lot of weight
-Slimming surgery with methods such as gastric bypass
-People with thin and loose skin.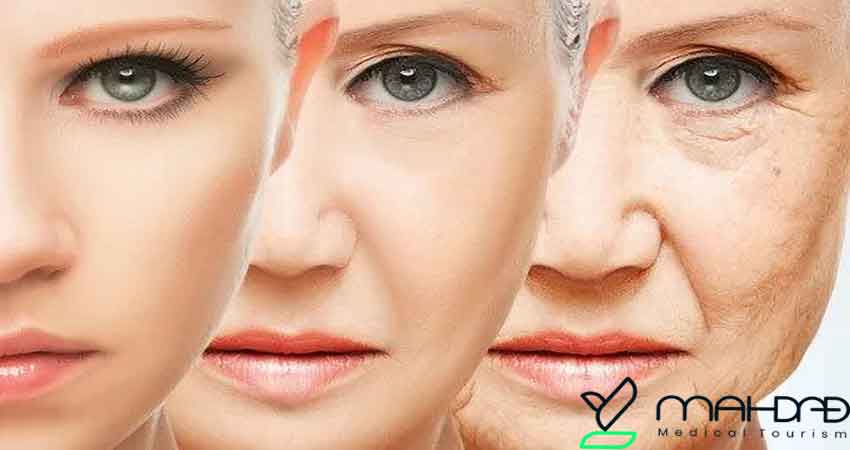 How to prevent sagging skin after weight loss surgery
Sagging skin after losing weight is obvious. But people can prevent it by following some tips. The following options can be mentioned:
-Exercise is one of the safest and best ways to lose weight. In this way, a person not only achieves his ideal weight but also can make his body shape closer to his expectations. If you experience sagging skin after losing weight through slimming surgery, you can easily fix it with a precise exercise program. Proper exercise makes it possible for the skin and body to become firmer without sagging.
-Gradual weight loss provides the opportunity for skin and body muscles to contract. The best weight loss rate is one to two kilograms per week. So, doctors consider significant weight loss in the short term as one of the causes of skin laxity.
-Collagenization of the skin causes it to tighten and increase its strength. Skin collagenization decreases significantly in old age, so losing weight at a young age is less likely to lead to saggy skin. Some skin extracts increase this collagen production.
If a person suffers from sagging skin after losing weight, he can increase the collagen production of the skin by following some points to increase its strength. Avoiding smoking can be effective in increasing skin collagen.
Types of treatment methods for sagging skin after weight loss
Sagging and loosening the skin after losing weight can have a great effect on reducing a person's appearance. But you need to know that there are many methods to treat this problem, some of them are domestic and some are medical.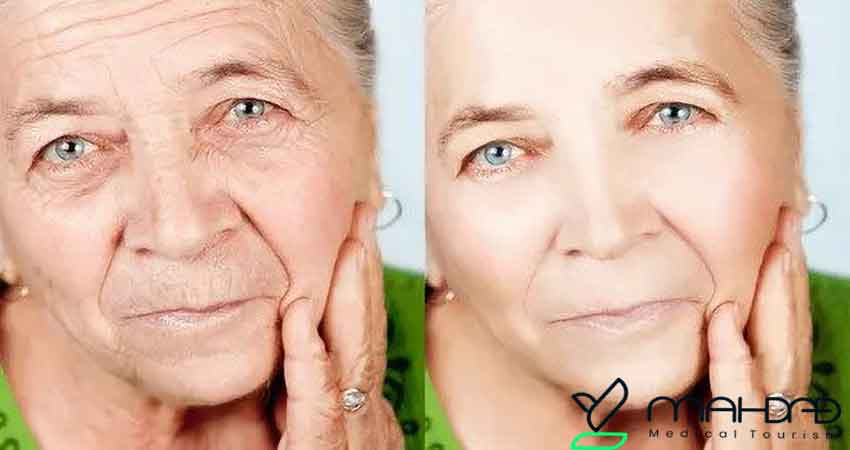 Domestic skin treatment can be ineffective in some cases or cause allergies, so it is necessary to consult your doctor before doing it. The types of treatment methods for sagging skin after losing weight are:
-Sport
-Cosmetic surgeries such as abdominoplasty and panniculectomy
-laser therapy
-Using collagen creams.
read more : PLASTIC SURGERY IN IRAN
The effect of cosmetic surgery in eliminating sagging skin after weight loss
As the name of cosmetic surgery suggests, these surgeries have a great effect on increasing the beauty of a person's appearance. Abdominoplasty and panniculectomy can be mentioned among the types of cosmetic surgeries that cause the treatment of sagging skin.
Abdominoplasty is beautiful plastic surgery in which the doctor contracts and tightens the patient's muscles and skin. The firmness of the skin reduces its sagging. Abdominoplasty is not covered by insurance because most insurance companies only cover the cost of necessary treatments and do not cover cosmetic treatments.
Panniculectomy surgery is prescribed for people who remove excess skin in the lower abdomen, it is mostly performed to increase health or treatment and prevent infection. This surgery is not in the category of cosmetic surgery, and some insurance companies cover the cost of it.
In laser treatment, a powerful laser beam is irradiated on the target area to stimulate the skin to produce collagen and restore the lost strength. Laser therapy must be performed in several sessions to achieve the desired result.
A suitable candidate for skin cosmetic surgery
To perform cosmetic surgeries, the patient must have the necessary conditions so that the treatment process is performed correctly and the desired result is obtained. These conditions are checked by the doctor during examination and counseling sessions. Some of these are:
-Physical health of the patient
-Achieving the ideal weight and its stability in the last 6 months
-Realistic expectations of the final result of surgery
The stability of the result of skin sagging treatment is largely dependent on the patient and the patient is requested not to remove skin laxity immediately after achieving the ideal weight and to ensure the stability of their weight.