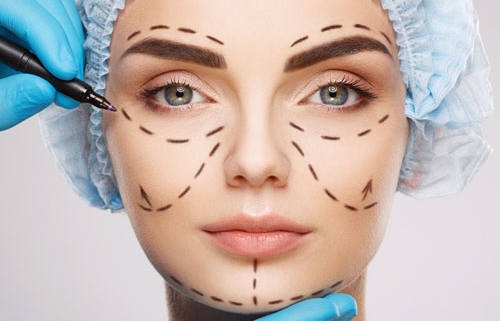 Plastic Surgery Trends Among the Stars
The prevalence of plastic surgery in Hollywood is certainly not a myth and it's a fair assumption that many celebrities have undergone some sort of cosmetic procedure, either surgical or non-surgical. It's no secret that celebrities' livelihoods depend on selling a specific image of themselves; as such, it makes sense that many would turn to plastic surgery for a little help. And, of course, there's nothing wrong with that. Some celebrities have been open about their plastic surgery, while others have attempted to keep their cosmetic procedures under wraps.
However, even if some celebrities have had a little cosmetic help from the plastic surgery industry, people still value knowing that. Why? because we're human, and we all live in a world of imperfections.
Even celebrities have bumps and lumps that they'd not like, and it's unreal to say that a supermodel body and wrinkle-free face can be achieved solely with exercise, diet and some skincare products. (Sorry, J. Lo, but no amount of extra virgin olive oil is going to make your face look flawless.)
We're in the cosmetic industry, but there are no "perfect" faces. We believe that beauty lies in the eye of the beholder—not in any given standard of what is considered beautiful.
Our work is not about creating a fantasy version of you or turning you into an airbrushed model. It's about helping you to find the most appealing version of yourself.
In this article, we want to convey the looks that have become trendy as of late, and taking a moment to remove some of the mystery behind those faces you see in the Hollywood.
Fat grafting procedures are here to stay
Fat grafting procedures are the new hybrid vehicles of cosmetic enhancement with massive capabilities that are quickly becoming the most sought-after erogenous zones for plastic surgeons.
Fat grafting is a technique that involves taking fragments of fat tissue from the midsection, separating and isolating the fat cells, and then injecting them into less fortunate areas, like the buttocks, breasts or face.
To summarize, here's a brief overview of fat grafting applications and the associated volumes of fat that can be injected:
Breast (25cc-400cc, each breast). It can increase breast size by one or two cup size, correct asymmetry and repair radiation tissue damage. It can also help correct scar tissue that results from lumpectomy or breast reconstruction.
Face (10cc – 100cc, total). Fat grafting restores the youthful appearance of hollowed-out areas, such as beneath the eyes, and wrinkles in the nasolabial folds. It also helps to repair scars and improves the texture and appearance of the skin.
Buttocks (200cc-1300cc+, each cheek). The procedure is also known as a "Brazilian butt lift" in the popular press it makes buttocks appear perkier and augments the buttocks size.
Hips (100cc-300cc, each side). Can be used to add volume to narrow hips to give the person more feminine profile and a better waist-hip ratio.
The best thing about fat grafting is that the results of the procedure look entirely natural. So, if you're looking for natural and subtle results, this is the way to go.
And hey, who does not want to kill two birds with one blow?! Take out some of the material you want to reclaim and add it to your favorite places.
Facial Optimization; Surgical or non-Surgical
Eye-lifting, Rhinoplasty, HA-injecting, Botox-injecting and neuromodulator-administering procedures have seen a boom in popularity. These procedures, both surgical and non-surgical, will give you a boost in self-image and make you more like your idea of the ideal self.
In fact, many of these non-surgical methods are trending in the direction of self-care. Nowadays, cosmetic procedures such as Botox injections are a common aspect of social life, no different from appointments to the hairdresser or visits to the dentist.
Jennifer Garner's preference for subtle, natural-looking modifications is a great example of how celebrities can modify their appearances using cosmetic procedures. (Though she never discusses the procedures she's tried).
A quick observation of her smile reveals some subtle changes, likely thanks to a combination of lip fillers to increase volume and Botox to limit the upper-lip range of motion when she smiles, which reveals less of her gums. Other changes to the face might include a more plump brow and softened under-eye area, both of which are common results of injectable fillers.
Whatever her secret is, it's working for her, because she looks gorgeous. She has a very natural look, but her lips, eyes and cheekbones are tweaked to enhance her best features.
When we talk about plastic surgery, we often neglect to mention men. It's a phenomenon that has been witnessed across all genders and ages. Recently, I came across this photo of Matt LeBlanc, our beloved Joey Tribbiani from the Friends series.
Matt LeBlanc, like Jennifer Garner, has never discussed having cosmetic procedures, but based on his youthful appearance, it's not unreasonable to assume that he has an active skincare routine that includes Botox and injectable fillers.
The man has most likely had cosmetic procedures done to target fine lines and wrinkles, but he has maintained the just-right amount of volume and elasticity in his face without looking overexuberant. We love Matt's look because we can still see Joey in his present-day appearance, but in a natural, handsome way that is appropriate for his age.
Body contouring remains a popular trend
Another popular procedure that is not going away for the foreseeable future is body contouring, whether surgical or non-surgical. Non-surgical body contouring treatments, including CoolSculpting and BodyTite, have gained traction in 2021 with celebrities like Molly Sims, Gretchen Rossi, Kris Jenner and Khloé Kardashian.
In an interview with "People" magazine, fitness model Paige Hathaway said that she had used the BodyTite non-surgical body contouring procedure to tighten her abdomen after giving birth. Cynthia Bailey, star of the Real Housewives television franchise, has also been outspoken about her choice to undergo the procedure, which she says she loves because it has little downtime and because it results in fantastic results that motivate her to stay fit and healthy. The results really show—she looks amazing!
Buccal Fat Pad Removal. A trend that is literally blowing up
The insatiable desire for a leaner and more youthful appearance has spawned another cosmetic procedure. Buccal fat removal is the latest bandwagon beauty procedure. It is a surgical procedure that reduces the size of the cheek fat pads. In this procedure, a surgeon removes the buccal fat pads, which creates a slender face. It's actually a fairly simple procedure as far as surgeries go. It can provide beautiful results for the right candidate.
Bella Hadid was rumored to have undergone cosmetic surgery after a noticeable change in the shape of her face was observed. Although she's never publicly discussed having had plastic surgery, the noticeable difference in her face between two photos—one taken when she was younger and one taken more recently—suggests that model Bella Hadid may have had buccal fat pad removal surgery. (And because of that difference, a rhinoplasty would be considered for her nose as well).