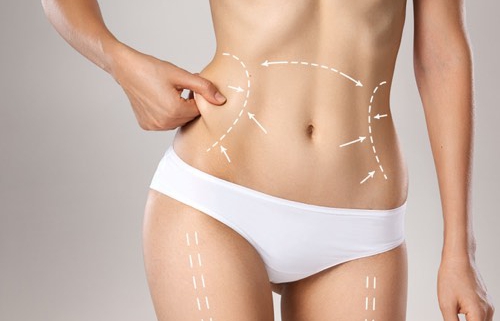 6 Ways to Keep Your Liposuction Results
Liposuction is a great way to shed stubborn fat and sculpt your body into a sleek, well-toned physique. It's a surgical procedure in which a tube-like instrument called a cannula is inserted into fat deposits and, under ultrasound guidance, suctions out unwanted fats. For the lazy fatties who can't be bothered to diet and exercise, liposuction is the perfect choice!
Liposuction may remove fat permanently, but it does not remove a patient's propensity toward gaining fat again in the targeted areas again. To say differently, liposuction is permanent in the sense that the fat cells removed during the procedure are gone forever. However, if a person resumes his or her previous habits—overeating, for example—new fat cells can develop and thus negate the results of liposuction.
Without proper upkeep, your liposuction results can feel like they are melting away. Here are 6 tips to ensure that you're on the right track to keeping that sexy new body in the long term.
Follow a Healthy Diet
To enjoy your new body after liposuction, you need to avoid sweets. Once your body's been liposuctioned, you must maintain a healthy eating habit:
Have your daily salad. Eat lots of fruits and leafy greens.
All carbs are created equal, but some carbs are more equal than others; It is best to select starchy carbohydrates, such as whole grains.
Skimp on saturated fats and refined sugars. The road to obesity is paved with ice cream and candy bars.
Cut down on salt. Please, find a new flavor!
Avoid fatty meats like bacon and sausage. Favor lean proteins like chicken and fish.
Drink Plenty of Water During the Day
Simple, old-fashioned H2O may be the healthiest drink to hydrate your body. Many experts recommend that people drink eight glasses of water a day. Adults are supposed to drink about two liters of water daily, though that will vary depending on a person's constitution and activity level.
The health benefits of water include:
Water will keep your fluids in balance. You are, after all, 60% water. Water keeps you alive by transporting nutrients and oxygen, keeping you cool, and allowing you to digest food
Controlling Calories: By drinking more water, you may find that your stomach feels fuller and that keeps you from overeating.
Water Will Increase your Productivity: Caffeine, you've been dethroned. Hydration is the new fatigue buster. Drinking water throughout the day eliminates brain fog and gives you unlimited focus, so you can keep getting more done.
Stay Active and Exercise Regularly
Getting into a regular exercise routine is important to staying healthy and improving your appearance. Strength and cardio workouts both keep you looking toned, fat-free, and fit.
You can do simple things like:
Taking the stairs instead of the elevator
Doing some easy cardio like jumping jacks, squats, or crunches
Make a habit of getting up and walking around for a few minutes every half-hour or so throughout your day, especially if you spend the whole day at a desk.
Fitness is crucial, however the way you get there should work with your schedule and vibe. The best exercise is the one that fits into your lifestyle. Some people prefer "me time" to run or hit the machines at the gym, while others find motivation through joining a sport team or a dance club. In the end, doing what's right for you will make it easier to stay committed.
Regulate and Reduce Your Stress Levels
Stress is a major factor in weight gain and obesity, even in people who tend not to eat more when they're stressed. When our stress levels are high, we produce more cortisol, which causes the body to create belly fat. And if you've had liposuction done in that area, you'd better hope that it doesn't come back.
Stress management can be very simple. If you're stressed, try working out, hanging out with friends, and listening to your favorite tunes as a cure.
Follow Your Cosmetic Surgeon's post-operative Advices
It's important to stick to your plastic surgeon's instructions for proper recovery from cosmetic surgeries and keep your liposuction results.
Your plastic surgeon may recommend you wear a compression garment after your liposuction surgery, which will help with swelling and give your body some time to get used to its new silhouette. The compression garment needs to be worn for the amount of time recommended by your doctor—usually between six and eight hours a day.
After your surgery, you should begin moving around and start some light exercises, to promote blood circulation and minimize swelling. However, you must refrain from heavy physical activity for three to four weeks. During the initial healing phase after a procedure, it is best to avoid strenuous exercises to allow your body time to recover.
Also, if you have any questions or doubts about your liposuction surgery, it's best to share them with your plastic surgeon. You can count on your surgeon to do everything in his power to make sure you're happy with the end result, and to make sure you have all the information you need to maintain your new figure.
Prepare Yourself Before the Procedure.
Maintaining a healthy lifestyle before your liposuction procedure is important. Although it might seem daunting to maintain a healthy diet and exercise routine after liposuction surgery, you're more likely to stick with it if you set up a balanced lifestyle beforehand. If you take the time to prepare for the surgery, you will be able to maintain a healthy body and lifestyle for years to come, enjoying your new body for many years to come.